Ryan took this photo of Torkie with his phone yesterday. Torkie got to hang with the guys while they were working on the shop yesterday afternoon. He was enjoying the sunshine and just relaxing.
We're taking him for his first vet check up today. I'm sure everything will check out fine. I have to remember to ask her about his grass eating habits and if he's the type of dog that might get cold this winter and needs clothing.
Ryan and his dad are getting ready to pour more concrete tomorrow. Another step closer to the shop being done!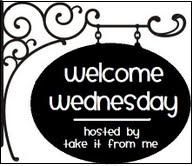 Another blogger thing: Welcome Wednesday.
Basically, this is a way to find interesting new blogs and for other people to find my blog. Sort of like a blog swap I guess you could say. :)
I enjoy doing these. I've found some cool blogs to read lately. :)