This week went pretty fast.

It's been beautiful out. A bit hot for my tastes but so far I've survived.
I wore a skirt to work for the first time EVER today. I finally did this because my friend Stacey (who I work with) drove in. I have an aversion to wearing a skirt and riding the bus because a lot of creepy people ride the bus as well and I/we don't need any more scary/creepy bus stories.
Just for fun, here is my outfit from today.
The shirt and shoes are exactly what I am wearing, but the skirt is just the closest thing I could find. Mine is very similar except it's medium teal, light teal and grey only. I feel cute today, which is a nice change from feeling frumpy in my work clothes.
Now on to other things.
Here is another blog game/fun thing. 5 Question Friday! The lady who writes the Five Crooked Halos blog comes up with 5 questions to answer every Friday. I found this through another blog I read: A Day in the Life of Amber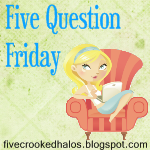 1. What is one food you could eat everyday?
I think I can say sushi. I crave it EVERY day. I only eat the type with veggies or cooked fish though. It's my fave and I'd probably get it more if Ryan didn't hate it. :(

2. Are you working in the career you thought you would be when you were 18?
I didn't have a specific career path picked out. I think I'm doing better than I would have imagined though.

3. What is something that you wish you would have done when you were younger and you didn't?
I had a pretty good childhood. I never really lacked anything. Maybe just traveled with my mom more, we just didn't have a lot of money. Oh, and appreciate my body more. What I wouldn't give to be in shape like I was in HS.
4. What color are your kitchen walls?
White-ish(dirty and ugly) and then one wall that is kind of in our dining room is a rich warm brown.
5. Do you remember what your very first favorite song was?
Hmm... When I was pretty small, somewhere around 1st grade to 2nd grade age I loved R.E.M.- Losing My Religion and U2- The Real Thing & Who's Gonna Ride Your Wild Horses.
I hope everyone has a great Friday!
I also hope I get some time to get on my home computer to post up all the photos I've taken the last 3 weeks.