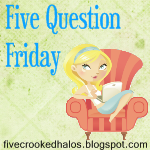 1. What were your school colors?


Blue and White.... booooring....

2.
What's the best compliment you ever received?


Hmmm... My husband like to tell me I'm the coolest chick he's ever met. That makes me pretty happy.

3.
Do you buy cheap or expensive toilet paper?


We get nice toilet paper. It's super soft.

4.
Have you ever had a surprise party thrown for you? Or have you had one for someone else?
I had a surprise birthday dinner thrown for me this year with a whole bunch of my girl friends. It was amazing.



5. What is one

material

possession that you "can't live without"?


Oh man, this is going to sound so stupid. I have a couple VERY special stuffed animals and I would be devastated if anything happened to them.

I also got my first award from a fellow blogger. :)
1. Thank and link back to the person who gave you the award.
Thank you
Megan
! I love your blog too!
2. Share 7 things about yourself.
1. My husband is my best friend and my favorite person.
2. I LOVE animals, especially elephants and humming birds.
3. I love motorsports. Cars, trucks, atvs, motorcycles, off roading...
4. At our wedding, the song we played during the recessional made both of us laugh so hard because it was SO early 90's style and a bit cheesy. All For Love- Bryan Adams, Rod Stewart and Sting. Lol.
5. I was a total punk rocker/skateboarder chick in high school.
6. I love the smell of a new book a lot.
7. When I get my hair done/colored I get sneeze attacks which sometimes turn into allergies. Something about the hair being pulled sets it off. It's really weird.


3. Pass the award along to 9 fellow bloggers that inspire you.
1. Amber @
A Day In the Life Of Amber
. I've been reading it since she started, it's great fun.
2. Kelsey @
This Is The Story Of A Girl
. She's a good friend and is just getting started on her blog.
3. Tara @
That's Why Her Hair Is So Big
. She cracks me up.
4. Stacy @
Stacy Says
. She also cracks me up and always has something interesting to share.
5. Kim @
Ooh! Piece of Candy!
Great blog and the name makes me giggle every time I see it.
6.
Cheap Wife.
She always has something interesting to say and she lives near me!
7.
Distributary
. I love reading her blog, just because!
8. Ree @
The Pioneer Woman
. She is amazing. I love her recipes and photo tips.
9. Marianne @
Lucy's Human
. I love reading her dog stories.
4. Let them know about the award.
Happy Friday everyone! I think Ryan is dragging me camping/off-roading tonight... First time with Torkie, it should be interesting...