The topic this week is:

Top 2 Favorite perfumes/colognes/scents
1. Hanae Mori
Love love love this perfume. I've been using it forever. I don't know anyone else who uses it which is kinda cool. It has a spicy vanilla scent. Yum.
2. Escada Sunset Heat (Or any Escada for that matter).
They come out with a new one every year. They're all similar and great but with different hints of fragrance. This one has a very pineapple smell to it. I love it. Tropical and fun.

Play along at The Undomestic Momma.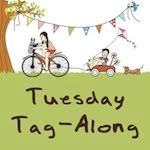 Play along at Twee Poppets.