Happy Friday everyone!
This week flew by for me. Which
might
have had something to do with the fact that it was only 3 days. I love short weeks. I wish I could work 4 10 hour days every week instead of the normal 5 8's.
We don't really have anything going on this weekend. I'm not sad about this though. It will be nice to just relax and spend time with my husband. I'm thinking about baking some yummy bread. We once again have a ton planned for the next couple weekends.
I might be taking some photos for some friends this weekend. The weather is supposed to be nicer tomorrow so hopefully we can make it happen. Excited and nervous to do it because I still don't have a lot of experience with portraits, but I adore them (the family) so I think it will be fun.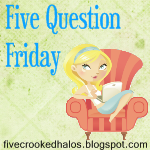 Five Question Friday brought to you by
My Little Life
.
1. Do you feel guilty spending money on yourself?

Not really. I work pretty hard so I feel like I can splurge once and a while. I don't buy a lot of stuff though.
2. How well do you know your neighbors?
Not very. We've lived at our house for 2.5 years and barely met any of them. One of them actually had the nerve to come and yell at me last summer for having multiple cars at our house. I was totally caught off guard and it really upset me. She's on my dislike list now.
Since we started the garage, EVERYONE stops and talks to us now. It's actually really nice. We've met and talked to a lot more people now and everyone has been really nice to us. I think people appreciate that our home improvements make the neighborhood nicer. Also, I think they've realized we're not just rude and irresponsible young people after all.
3. What age are you looking forward to being?
I would like to stay 25 forever. I really don't want to get any older. This is my ideal age that I was looking forward to being.
4. Do you get excited when the mail comes? Why?

Sometimes... Lately, we mostly get junk mail and bills. Not exciting. I love it when I am expecting something good though, then it's exciting. Speaking of, I don't think we've checked the mail in 3 days. Oops.
5. What is your earliest childhood memory?
I have some faint pictures in my head of living on the farm in Carnation. I think I was about 2 then. More clear though, I remember playing with clay in preschool, so about 4 years old.