It's the end of the week again. Imagine that!
Nothing much exciting to report this week. I did do CrossFit 4 days this week, so I think that's pretty exciting. :)
Plans for the weekend include:
Taking our I Mac into the Apple store to get looked at. :( It's only a year old and in the last week has developed a couple lines across the screen. I'm not very happy about that.
Cleaning our fish tank.
Going to our friend Ryan's cabin on Whidbey Island Saturday afternoon to camp and hang out with him and his GF Kelsey.
Give Torkie a bath.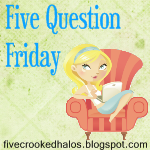 1. What is the first nightmare you remember?
Hmm... I can remember an old one where I was walking on train tracks and a train was coming but I couldn't move fast enough to get out of the way. When the train hit the dream ended. Pretty typical nightmare I think.


2. Even if you're not a sports fan, what's your favorite sport to play/watch?
I enjoy watching the Seahawks play most of the time and I also enjoy watching hockey live.

3. If you could pull off one piece of trendy fashion, what would you want it to be (jeggings, hats, thigh high boots, etc.)?
I REALLY wish I could stand to wear high heels. I'm a wimp though. I don't enjoy being in extreme pain, which is what happens if I wear anything over 3.25". It's sad because I see soooo many cute shoes. Ryan hates high heels though because he thinks they're ridiculous and bad for your body, which really, they are.
I also really love all the cute boots out for fall. I can't wear most of them because of the size of my calves though. It makes me sad.

4. Did you make good grades in school?
I did up until HS. I lost interest in school at that time. Oops.

5. What magazines do you subscribe to?
None anymore. I used to get Snowboarder, 4Wheeler and Cosmo. I also had a subscription to a bridal magazine before I got married, can't remember which one though.