I've been so worked up about my 100th post that I haven't posted.
I didn't want it to be boring, but then it turned into me not posting anything for 2 weeks.

Really who cares about the 100th post? Not that big of a deal. Maybe I'll do something special for my 200th post. Ha!

Anyways, lots to talk about.

Our shop is semi close to being done. It's all sided, windowed and it and our whole house got a new paint job. It looks so much better. I can honestly say we have one of the best if not THE best looking home in our neighborhood now. It's pretty awesome.

We went to West Coast Subaru Show last weekend in Cashmere, WA. It was a blast!
We had a group of about 25 people camping with us; the weather was great, met some cool people, stared at some amazing cars and just had a great time. Every year when I go to this it renews my love for my car and the car scene in general. I already am counting down the days till next year.
Torkie had to be boarded for the first time. :( We had him stay at the Pets Hotel at Petsmart. I'm pretty happy with everything regarding his stay. Apparently at some point during his stay, he figured out how to open his kennel and he went for a stroll. When one of the workers saw him, he ran back to his kennel and pretended he hadn't done anything. He's such a smart little boy.


Photos of Subarus:


Setting up our camp. We needed to save spots for 13 more tents.
Our friend Michael was really excited about this sticker.
He had to put it on his car immediately.
Me! And yes, I'm quite blond now.
Sunset Friday night at the campground. It was spectacular. I think the wild fires burning over the hill had something to do with the vivid colors. The Rumble Wagon looks so shiny!
Show time. All of the cars in our group lined up together.
Spectators getting ready to watch people tear it up in the mud pit.
Our camp spot from a hill over looking the whole camp ground. We were one of the largest groups there.
Speaking of Torkie, we've noticed when it's a little chilly out or if he's wet he gets cold really easily. We decided to pick him up a little sweater last night to see if that would help.
Well it was quickly obvious he does NOT like to wear clothing. As soon as we put the sweater on him he turned into a statue. He literally did not move for 5 min. He just stood in the kitchen looking pathetic. We even tried to get him to move by offering him a treat. No luck. Poor little guy.
I am hoping that if we just get him used to wearing a sweater and leave it on him that he will eventually move and get used to it.


Photos of said sweater and pathetic pup and more pathetic-ness in the form of Torkie getting a bath:



Please help me.
Soggy pup.
I'm really excited to today to be over. This week has gone surprisingly fast though. I'm getting together with my best friend Monique after work for sushi, (window) shopping and just because we haven't hung out in a long time. Some much needed girl time will be great.
Last of all, I'm participating in Friday Fives over at Just Me and My Life.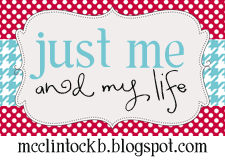 1.Something you are OCD about:
I'm randomly OCD about little things like messes and dishes, but lately, I've become super OCD about dog hair on our kitchen/dining room floor. For some reason, it really bothers me. It may be because our dog is light colored so his hair stands out like a sore thumb, but I've been sweeping, swiffering and vacuuming almost every day. One reason to be excited for fall and winter is his shedding will slow down.
2. Your favorite quote:
Hmm I have a couple that have really struck my fancy lately.
A successful marriage requires falling in love many times, always with the same person. - Mignon McLaughlin
"Twenty years from now you will be more disappointed by the things you didn't do than by the ones you did do. So throw off the bowlines, sail away from the safe harbor. Catch the trade winds in your sails. Explore. Dream. Discover." – Mark Twain
"The most exciting movement in nature is not progress, advance, but expansion and contraction, the opening and shutting of an eye, the heart, the mind. We throw our arms wide with a gesture of religion to the universe; we close them around a person. We explore and adventure for a while and then draw in to consolidate our gains." ~Robert Frost
3.What is the farthest you have been from home?
Maui, Hawaii
4.Do you do a real or fake Christmas tree?
REAL! I love Christmas and going to get a tree.
5.First Blog you ever read?
I think it was Ryan's SIL's.
http://craigandwhitney.blogspot.com/
Happy Friday everyone!