My leg isn't going to fall off or anything! Yes, I will admit I was having some hypochondriac type thoughts about my flesh rotting away or something. It happens.
When I went to the doctor yesterday my dent was pretty much gone(of course). I still went anyways to talk to her about it. She checked me out, went over a couple things and basically said that what's going on with me is similar to shin splints but with no pain. Ok, works for me. She said there is nothing to be worried about unless it starts to hurt or something.
Phew!

Also, yesterday I decided to step up my workout regimen. I'm really excited about this.
Like I mentioned a while back I'm really loving CrossFit. I've NEVER in my life been this into exercising. I bumped up my membership to unlimited status with the plan to go at least 3 times, if not 4 times a week. Yay!
Best shape ever... here I come!



Also I'm participating in a Blog Hop today.
Play along at: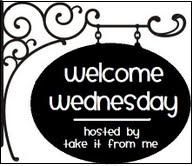 The week's half over, well almost. Yay!